Skip to main content
New & Used Tractor Trailer Sales - All Types!

Commercial tractor trailers are available for sale in all 50 states. Flatbed trailers and van trailers are the most common, but other types are also readily available. Most trailer dealerships are happy to arrange for trailers to be shipped from one state or country to another, so don't worry if you don't find the right trailers for your hauling needs at a dealership location that is close to you.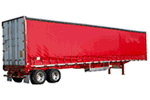 Searching for Trailers
Knowing what cargo you are likely to be hauling is the first step to finding the right trailer. It may be beneficial to purchase flatbed trailers if you will be hauling a wide variety of cargo items because they are very versatile. You may also consider purchasing several trailers of different types so that you can easily haul irregularly-shaped loads, freight on pallets, frozen foods, and other types of goods.
You can browse the entire trailer inventory, but the amount of trailers for sale may be overwhelming. One option is to use the search function to set your perimeters so that you only see trailers that meet your hauling needs. Setting your preferences for trailer type, price range, make, model and year of manufacture will narrow down to options and make it easier for you to choose trailers that meet your needs.
Trailer Types
Some types of semi tractor trailers are commonly seen on the freeways, such as flatbeds, tankers, containers, car haulers and vans. These trailers are generally used to haul cargo long distances from the manufacturer to the distributor. Dump trailers are often seen on construction sites, and hopper trailers are more common in agricultural areas. Some trailer types are easier to find in some areas of the country than others.
Here are descriptions of a few common types of trailers:
Vans and Curtain Vans
Van trailers are one of the most common types. These trailers look like a long box and are used to haul a wide variety of products from one place to another. It is common for van trailers to be seen backed up to loading docks because forklifts are often used to load these trailers with different types of freight. Curtain vans are similar to van trailers. The difference is that the sides of the trailer consist of soft curtains that can be moved out of the way for loading and unloading cargo.
Reefers
Reefer trailers are very similar in size and shape to van trailers, except that they have at least one cooling unit attached to the top of the trailer. This unit is designed to keep the freight at a certain temperature. Sometimes the freight is kept at a temperature above freezing, while other times the cargo must be frozen.
Car Carriers
Car carrier trailers are used to transport multiple vehicles from one location to another. This may be from the manufacturer to the dealership or from one dealership to another. Much of the time these vehicles are new, but used vehicles may also be hauled on these trailers. Tractors and light-duty commercial vehicles may also be carried on car carriers.
Flatbeds
Flatbed trailers are the simplest type of trailer, consisting of a single deck with several wheels and axles. These trailers have no sides, so they are easy to load and work well for moving freight that doesn't fit the dimensions of a standard van trailer.
---