Skip to main content
New & Used Semi Trucks For Sale from Top Dealers, Fleets & Truckers
Inventory Last Updated: 12/06/2023 9:00 AM EST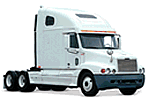 More About Semi Trucks For Sale
You can find commercial trucks for sale in every one of the United States. Whether you're looking for box trucks, dump trucks, sleeper trucks, or daycabs, our extensive listings of commercial trucks for sale will help you find exactly the trucks you need to move more loads down the roads and help your business thrive.
Semi Truck Manufacturers
Whether you're an owner-operator, trucking company owner, fleet manager or driver, take a look at our extensive truck listings in your area. We have trucks from all of the best manufacturers in the industry, including Volvo, Kenworth, GMC, Sterling, Mack, Freightliner, Ford, International, Hino, Peterbilt, Navistar, Isuzu and more. You can browse the listings or search by make, location, truck type, condition or other specifications. Remember to check back if you don't find trucks that meet your needs right away. New inventory is being added on a daily basis. You can also post an ad in our 'Want to Buy' section to let sellers know what you're looking for.
Selling Your Commercial Semi Truck
Trucker-to-Trucker is known for our ability to help you sell your commercial trucks & trailers quickly. Thousands of truckers visit our site daily, with many of them looking for trucks to buy. The amount of information you include in the listing is up to you, but providing as much information as possible has been shown to sell trucks more quickly.
It is worth the effort to spend a few minutes making sure you include details in your listings. It is also important that you include a variety of pictures of the interior and exterior of the truck you are selling. Up to 36 pictures can be included in your listing, at no extra charge. Your ad will run until the truck is sold.
Commercial Semi Truck Listings
Each truck in our inventory is listed individually. Every listings includes at least one full-color picture of the truck's exterior. Most listings include multiple pictures of the inside and outside of the truck. Some listings even include a video that shows the amenities and features available in that particular truck.
Each truck listing also includes a wide variety of information to help you determine whether that truck meets the needs of your company. This information often includes, wheelbase, condition, make, model year, wheelbase, warranty information, fuel capacity, transmission type and more.Contact information for the seller is also included in each listing. This information generally consists of a company name and phone number. The seller's city and state may also be included.
Underneath the photos in the listing there are several links that you can follow to get additional information about the vehicle being sold. Depending on the links you follow, you can get more information about financing, insurance and vehicle inspection reports. You can also request that the photo slideshow in the listing be sent to any email address you provide.
---