Olathe Trucks for sale

Olathe Has Great Deals on Semi Trucks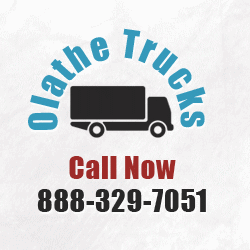 Situated along the Interstate 35 corridor just to the southwest of Kansas City, lies one of the best places in Kansas to find an exceptional deal on the late-model new or used truck of your dreams. This place is Olathe, Kansas, and it offers some of the most outstanding opportunities for truckers looking to become owner-operators of their own semi trucks. So whether you are looking for a Volvo daycab truck or an International flatbed truck, you are definitely going to be able to find the truck you need in Olathe.
Because there has been an increase in recent years in interstate trade along the I-35 corridor, there has been a growing demand for daycabs and sleeper trucks in Kansas. To meet this growing demand, truck dealers in the area have been offering a variety of financing and pricing specials to truckers looking to buy top-quality new and used sleeper and daycab trucks. Also because of the increased trade, a number of trucking companies in the area around Olathe have begun to update their fleets. This means that there are a number of used trucks in excellent condition available at the area truck auctions. So whether you are looking for a new Freightliner sleeper truck or a used Peterbuilt daycab, you will find an exceptional deal available on the truck you want in Olathe.
Because there are a number of manufacturing and industrial companies in the Olathe area, there is a need for dump trucks to haul raw materials to these companies. Due to this business, many truck auctions and dealers in the Olathe area have a great selection of new and used dump trucks available at affordable prices. For the trucker looking to purchase a dump truck, there are a number of great deals that can be had on these trucks.
Trucks Sales in Olathe Kansas
All Ads Placed by...
Murphy-Hoffman Company
| | |
| --- | --- |
| Displaying records 1 to 25 of 29 | |
Year Make Model
City , State
Price
2006 KENWORTH T600

Stock# 0285360


Call Murphy-Hoffman Company at 866-798-5170 Prior Melton
Olathe, KS
$34,950



Insurance Quote
2011 KENWORTH T660

Stock# 0286652


Call Murphy-Hoffman Company at 866-798-5170 Double bunk, Thermo King APU,All aluminum Wheels,Dual airride seatRefrigerator, Heated mirrors,Air slide 5th wheelFresh DOT, ready to go to work!!50410
Olathe, KS
$55,950



Insurance Quote
2009 KENWORTH T800

Stock# 0286001


Call Murphy-Hoffman Company at 866-798-5170 Very clean low miles T800 tractor
Olathe, KS
$69,950



Insurance Quote
2012 KENWORTH T660

Stock# 0289004


Call Murphy-Hoffman Company at 866-798-5170 Came from Raines and Sons. Has TKAPU, double bunk,Fully inspected andDOT'd. 4/500K warranty remaining withaftertreatment coverage, 17 gauges,Espar...Located in Tulsa OK
Olathe, KS
$69,950



Insurance Quote
2012 KENWORTH T700

Stock# 0288632


Call Murphy-Hoffman Company at 866-798-5170 Double bunk, Thermo King APU,All aluminum Wheels,Dual airride seatRefrigerator, Heated mirrors,Air slide 5th wheelFresh DOT, ready to go to work!!
Olathe, KS
$67,950



Insurance Quote
2012 KENWORTH T700

Stock# 0286799


Call Murphy-Hoffman Company at 866-798-5170 2012 T700 / MX ENGINE / 10 SPEED TRANS3.36 RATIO / FULL AERODYNAMIC PACKAGEALUMINUM WHEELS / DUAL AIR RIDE SEATSDOUBLE BUNK / DUAL HTD POWER MIRRORSDUAL POWER WINDOWS / TILT STEERING...
Olathe, KS
$69,950



Insurance Quote
2009 KENWORTH T800

Stock# 0285438


Call Murphy-Hoffman Company at 866-798-5170 Very clean low miles T800 tractor
Olathe, KS
$67,950



Insurance Quote
2012 KENWORTH T660

Stock# 0286878


Call Murphy-Hoffman Company at 866-798-5170 VIT STUDIOS WITH ESPAR HEATERS14 guage package with Nav PlusSleeper Doors with windows
Olathe, KS
$77,950



Insurance Quote
2015 KENWORTH T880

Stock# 0271499


Call Murphy-Hoffman Company at 866-798-5170
Olathe, KS
Call



Insurance Quote
2012 KENWORTH T700

Stock# 0286798


Call Murphy-Hoffman Company at 866-798-5170 2011 T700 / MX ENGINE / 10 SPEED TRANS3.36 RATIO / FULL AERODYNAMIC PACKAGEALUMINUM WHEELS / DUAL AIR RIDE SEATSDOUBLE BUNK / DUAL HTD POWER MIRRORSDUAL POWER WINDOWS / TILT STEERING...
Olathe, KS
$69,950



Insurance Quote
2009 KENWORTH T2000

Stock# 0279862


Call Murphy-Hoffman Company at 866-798-5170 sper clean T2000, double bunk,refrig,
Olathe, KS
$49,950



Insurance Quote
2012 KENWORTH T660

Stock# 0280667


Call Murphy-Hoffman Company at 866-798-5170 New Virgin Drive TiresPower Windows & Locks, Dual AR seatsAM/FM/CD, Sleeper Windows, Tilt/TeleExcellent MPGEspar Heater35118
Olathe, KS
$64,950



Insurance Quote
2015 KENWORTH T680

Stock# 0275111


Call Murphy-Hoffman Company at 866-798-5170
Olathe, KS
Call



Insurance Quote
2007 NAVISTAR 8600

Stock# 0286820


Call Murphy-Hoffman Company at 866-798-5170
Olathe, KS
$24,950



Insurance Quote
2015 KENWORTH T680

Stock# 0275782


Call Murphy-Hoffman Company at 866-798-5170
Olathe, KS
Call



Insurance Quote
2009 NAVISTAR PROSTAR

Stock# 0285938


Call Murphy-Hoffman Company at 866-798-5170 Need new front bumperrigmaster APU
Olathe, KS
$41,950



Insurance Quote
2011 FREIGHTLINER CA12564SLP

Stock# 0286891


Call Murphy-Hoffman Company at 866-798-5170 Tri-Pac APU
Olathe, KS
$59,950



Insurance Quote
2007 KENWORTH T600

Stock# 0286512


Call Murphy-Hoffman Company at 866-798-5170
Olathe, KS
$29,950



Insurance Quote
2007 KENWORTH T600

Stock# 0286514


Call Murphy-Hoffman Company at 866-798-5170
Olathe, KS
$27,950



Insurance Quote
2015 KENWORTH T880

Stock# 0267032


Call Murphy-Hoffman Company at 866-798-5170
Olathe, KS
Call



Insurance Quote
2012 KENWORTH T700

Stock# 0288629


Call Murphy-Hoffman Company at 866-798-5170 Double bunk, Thermo King APU,All aluminum Wheels,Dual airride seatRefrigerator, Heated mirrors,Air slide 5th wheelFresh DOT, ready to go to work!!
Olathe, KS
$67,950



Insurance Quote
2009 KENWORTH T800

Stock# 0286000


Call Murphy-Hoffman Company at 866-798-5170 Very clean low miles T800 tractorBig Cummins power, lease maintained
Olathe, KS
$68,950



Insurance Quote
2012 KENWORTH T700

Stock# 0288631


Call Murphy-Hoffman Company at 866-798-5170 Double bunk, Thermo King APU,All aluminum Wheels,Dual airride seatRefrigerator, Heated mirrors,Air slide 5th wheelFresh DOT, ready to go to work!!
Olathe, KS
$65,950



Insurance Quote
2011 KENWORTH T800

Stock# 0286002


Call Murphy-Hoffman Company at 866-798-5170 Very clean low miles T800 tractor
Olathe, KS
$72,950



Insurance Quote
2015 KENWORTH T680

Stock# 0275875


Call Murphy-Hoffman Company at 866-798-5170
Olathe, KS
Call



Insurance Quote
| | |
| --- | --- |
| Displaying records 1 to 25 of 29 | |