Cincinnati Trucks for sale

Cincinnati Has Your Perfect Semi Waiting for You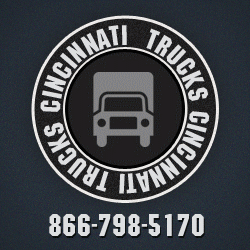 Located along the north bank of the Ohio River at the Kentucky-Ohio border, Cincinnati has long been a major transportation center in the Ohio Valley. Even today, the city continues this tradition with three major interstate routes passing through the city and with its continued shipping activity along the Ohio River. In addition to this, the city is a major aviation hub with its airport being the fifth largest hub in the Delta Air Lines system. For a truck driver looking to become an owner-operator, this means that Cincinnati offers unparalleled opportunities for finding excellent work and awesome deals on Ohio commercial semi trucks.
Because the city is served by Interstates 74, 75, and 71, there is always a need in Cincinnati for trucks that can haul freight on the interstate and international trade routes that run from the city out to destinations across the United States and Canada. For the long-haul trucker, this means that work is plentiful in Cincinnati and there is an abundance of excellent deals to be found on new and used Ohio daycabs and sleeper trucks at area truck dealerships. Also because the city is home to several freight companies, there is a bounty of excellent deals on late-model used trucks to be found in auctions across the entire Cincinnati metro area. Simply put, if you look hard enough in Cincinnati, you will find an unbeatable deal on a great-looking new or used daycab or sleeper truck in Ohio.
Because companies like Kroger, Chiquita Brands, and Sunny Delight Beverages are headquartered in Cincinnati, economic opportunities abound for the owner-operator looking to buy a day cab truck. Also since the area is a major rail hub and river port, there is plenty of agricultural trade that passes through the area headed to other destinations. This all coalesces to make Cincinnati one of the best places in the Ohio Valley to buy a truck. Overall, you are sure to find exceptional deals on trucks at the Cincinnati area commercial truck auctions and Ohio truck dealerships.
Trucks Sales in Cincinnati Ohio
| | |
| --- | --- |
| Displaying records 1 to 25 of 69 | |
Year Make Model
City , State
Price
2011 Volvo VNL670

Stock# 202374


Call Arrow Truck Sales at 866-270-3939 Blue Volvo with Volvo Power Blue Volvo with Volvo Power10 speed ready to get on the road and make you moneyPlease call and let us help you get into this awesome truck
Cincinnati, OH
$61,000


Finance it!
Insurance Quote
2011 International PROSTAR

Stock# 204985


Call Arrow Truck Sales at 866-270-3939 Clean and ready to work! Cruise down the road in CLASS and STYLE in this 2011 Prostar! ISX power with a 9 speed (convertible to 13) to get you down the road. Plenty of room to move...
Cincinnati, OH
$57,950


Finance it!
Insurance Quote
2012 Volvo VNL780

Stock# 204659


Call Arrow Truck Sales at 866-270-3939 I-SHIFT!! HUGE FRIDGE! NONE CLEANER! This 780 is as loaded as they come! Monster 500 horsepower engine with the best transmission in the business...I-Shift.This beast is stocked up w...
Cincinnati, OH
$80,950


Finance it!
Insurance Quote
2010 Volvo VNL780

Stock# 203013


Call Arrow Truck Sales at 866-270-3939 HARD TO FIND 13 SPEED 780! VERY CLEAN Perfect to run team plenty of storage very clean inside ,trailer brake , lock differentials, dump air bags, air slide 5th, spot mirrors 13spd r...
Cincinnati, OH
$59,950


Finance it!
Insurance Quote
2012 Freightliner CASCADIA

Stock# 202460


Call Arrow Truck Sales at 866-270-3939 Low Mile Matching Unis Available Very clean, low miles, unique Cummins powered Cascadia. Aluminum wheels, dual power windows and mirrors, dual air rideseats, spacious sleeper with 2...
Cincinnati, OH
$77,950


Finance it!
Insurance Quote
2010 Freightliner CASCADIA

Stock# 201595


Call Arrow Truck Sales at 866-270-3939 Clean truck with 90 Day Warranty! Full fairings, aluminum wheels, dual air ride seats, steering wheel controls, excellent condition inside and out. Calltoday
Cincinnati, OH
$59,950


Finance it!
Insurance Quote
2006 Freightliner COLUMBIA

Stock# 204371


Call Arrow Truck Sales at 866-270-3939 Low mile pre-emission! Ready to Work Pre-DPF FL DayCab!Low miles on this 12.7L DetroitFeaturing: Diff Lock, Trailer Brake, Suspension DumpMP3 CD Player with Aux Port and Passenger Po...
Cincinnati, OH
$36,950


Finance it!
Insurance Quote
2011 Volvo VNL670

Stock# 203228


Call Arrow Truck Sales at 866-270-3939 FLEET PRICING AVAILABLE! Don't Miss out! We have only a few left and they are goingfast! This tractor is in great shape and was taken very wellcare of. Volvo power with a 9 speed con...
Cincinnati, OH
$71,950


Finance it!
Insurance Quote
2011 Volvo VNL670

Stock# 203511


Call Arrow Truck Sales at 866-270-3939 Choose your deal on this truck! Call today for info on our Choose the right deal for you promotion on this truck. Very clean Volvo 670 with VED13 475hp and a bulletproof Fuller 10 s...
Cincinnati, OH
$61,000


Finance it!
Insurance Quote
2012 Freightliner CASCADIA

Stock# 202462


Call Arrow Truck Sales at 866-270-3939 Late model low mile with 90 Day Warranty Very clean, low miles, unique Cummins powered Cascadia. Aluminum wheels, dual power windows and mirrors, dual air rideseats, spacious sleepe...
Cincinnati, OH
$77,950


Finance it!
Insurance Quote
2007 International 8600

Stock# 203598


Call Arrow Truck Sales at 866-270-3939
Cincinnati, OH
$33,950


Finance it!
Insurance Quote
2007 International 8600

Stock# 205502


Call Arrow Truck Sales at 866-270-3939
Cincinnati, OH
$35,950


Finance it!
Insurance Quote
2011 Freightliner CASCADIA

Stock# 205395


Call Arrow Truck Sales at 866-270-3939 Sleak and reliable Call and ask about our down payment relief on this truck! Comes with 90 Days of warranty and optional road side assistance and extended warranty options available...
Cincinnati, OH
$73,950


Finance it!
Insurance Quote
2011 International PROSTAR

Stock# 202988


Call Arrow Truck Sales at 866-270-3939 Sleek and powerful! Deep Virgin Rubber on this Slick 2011 ProstarRoomy sleeper with tons of storage and dualSleeper windows, California compliant emissions,Power locks, windows, and ...
Cincinnati, OH
$64,950


Finance it!
Insurance Quote
2007 Freightliner COLUMBIA

Stock# 206837


Call Arrow Truck Sales at 866-270-3939
Cincinnati, OH
$41,950


Finance it!
Insurance Quote
2010 Kenworth T660

Stock# 206553


Call Arrow Truck Sales at 866-270-3939
Cincinnati, OH
$52,950


Finance it!
Insurance Quote
2011 International PROSTAR

Stock# 205330


Call Arrow Truck Sales at 866-270-3939 Cummins Power! Dark Blue as the evening sky! Chrome wheels, and Cummins PowDurability of a Fuller 10 speed to shift the way, comfort of90 day/ 25,000 mile warranty Included!Financing...
Cincinnati, OH
$62,950


Finance it!
Insurance Quote
2011 International PROSTAR

Stock# 205332


Call Arrow Truck Sales at 866-270-3939 Cummins Power! Black Beauty with Chrome wheels an Cummins Power!Clean Premium Interior with swivel driver's seat!90 day/25,000 mile warranty includedFinancing Available, extended war...
Cincinnati, OH
$63,950


Finance it!
Insurance Quote
2011 International PROSTAR

Stock# 205333


Call Arrow Truck Sales at 866-270-3939 Clean with Cummins Power! Dark Blue as the evening sky! Chrome wheels, and Cummins PowDurability of a Fuller 10 speed to shift the way, comfort of90 day/ 25,000 mile warranty Include...
Cincinnati, OH
$64,950


Finance it!
Insurance Quote
2011 Freightliner CASCADIA

Stock# 205129


Call Arrow Truck Sales at 866-270-3939 Clean and ready to work Smooth Cascadia ride with GREAT MILES in a "Work with AlmostAny Fleet White" platform, double bunk, dual AR seats.
Cincinnati, OH
$69,950


Finance it!
Insurance Quote
2012 Volvo VNL670

Stock# 205622


Call Arrow Truck Sales at 866-270-3939 Ask about our Matching Down Program!
Cincinnati, OH
$71,950


Finance it!
Insurance Quote
2012 Volvo VNL670

Stock# 205623


Call Arrow Truck Sales at 866-270-3939
Cincinnati, OH
$89,950


Finance it!
Insurance Quote
2007 International 8600

Stock# 205858


Call Arrow Truck Sales at 866-270-3939
Cincinnati, OH
$33,950


Finance it!
Insurance Quote
2005 Freightliner CLASSIC132

Stock# 206741


Call Arrow Truck Sales at 866-270-3939
Cincinnati, OH
$26,950


Finance it!
Insurance Quote
2008 International 4300

Stock# 206723


Call Arrow Truck Sales at 866-270-3939
Cincinnati, OH
$14,950


Finance it!
Insurance Quote
| | |
| --- | --- |
| Displaying records 1 to 25 of 69 | |