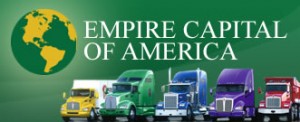 Trucker-to-Trucker is proud to welcome Empire Capital of America into our exclusive team of advertisers. Empire Capital of America specializes in helping trucking company owners and owner-operators get the trucks, trailers and equipment they need to grow their businesses. They help customers with all types of credit scores and can approve your credit application in as little as 24 hours if you have been in business for at least two years. Their office is located at 112 W. 34th Street, 18th Floor Suite 1822, New York, NY 10120. They can also be reached by phone at 1-800-407-3090 or via the contact form on their website.
Empire Capital of America is able to help you with financing, even if you have previous repossessions, bankruptcies. tax liens and other derogatory items on your credit report. They accept credit scores as low as 500 and welcome companies that are just starting out and looking to build credit.
Many companies choose Empire Capital of America because of their sale and lease back program. If you participate in this program,Empire Capital of America Investment partners will buy the equipment that you own and lease it back to you. This provides you with the working capital necessary to grow and expand your business without the worry of a line of credit from the bank. They also offer a start-up program for customers who are just starting a new business and have been in business for under two years. Most lenders will not offer financing to companies who have not been in business for at least 24 months.
There are many advantages to leasing business equipment. First, it is less expensive than buying, allowing you to acquire equipment for your business quickly. Lease payments are almost always less than purchase payments and leasing requires less money up-front. This allows you to keep money in reserves for unexpected breakdowns and other expenses. Leasing also requires a much smaller down payment than buying.
Empire Capital of America helps offer a large number of financial products, giving trucking company owners the choices they need when it comes to financing. Heavy equipment leasing, heavy equipment financing, factoring, business acquisition financing and accounts receivable financing are a few of the financial products that benefit business owners in the trucking industry. They offer each new customer a free analysis of their financial needs and are known for offering excellent customer service. Trucker-to-Trucker is honored to welcome them into our advertising family.