Skip to main content
ARI Custom Sleepers at McKenna Truck Center
---
2013 VOLVO VNL64T300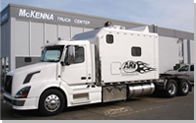 LOADED Custom ARI 144" sleeper, maple hard wood pkg, medicine cabinet, microwave convention oven, two burner cooktop, 32" LCD TV, Onan7500 watt Generator, Coleman roof top a/c and much more!
ARI Legacy Custom Sleepers are the premier custom sleeper company in the industry with all the amenities of home built into their sleepers, including the kitchen sink! The driver who wants the luxury of home while he or she is on the road can do no better than to invest in an ARI Legacy sleeper for comfort, convenience, high quality and durability.
With price ranges and accommodations to fit all budgets, an investment in a Legacy sleeper will easily pay for itself every month. Fully equipped kitchens can eliminate the expense of restaurant meals while providing health benefits as well, and the available flat-screen television and computer hookups easily provide entertainment and communication for those long trips away from home. The comfortable and luxurious sleeping accommodations ensure a good night's rest by eliminating the need for costly hotel bills and unfamiliar beds that may also be uncomfortable.
Variable floor plans and amenities in the Legacy sleepers range from the hardwood interiors, stainless fixtures and day/night shades of the Legacy custom series to the pre-engineered designs of the Legacy III series. The structure quality is the same for all the Legacy sleepers, the difference being in the luxury amenities such as hardwood interiors and available showers. No matter the choice, Legacy sleepers maintain the highest standards in the industry for custom sleepers and are fully customizable to meet each buyer's needs.
At ARI Legacy Custom Sleepers, their only concern is having a satisfied buyer and they are 100% committed to that end. Since one of the owners was a former truck driver, they understand the rigors of life on the road and their goal is to make that life as comfortable and worry-free as possible.
Attractive financing plans as well as buyer incentives make this an ideal time to invest in a Legacy sleeper. In addition, interest rates are low and rebates are available to further sweeten this deal.
These cost-effective yet luxurious Legacy sleepers are now available through McKenna Truck Center in Des Moines, Iowa. McKenna Truck Center has been serving truckers for more than 25 years and they understand the importance of keeping a truck on the road, but in good operating order. Quick and efficient repairs from their experienced service technicians help truckers to keep their downtime to the absolute minimum.
In addition, the sales staff at McKenna Truck Center has over 100 years collectively of sales experience, so they guarantee that their customers will receive the Legacy sleeper that they order in the shortest time possible.
So, if it's time to purchase that sleeper or upgrade to a better one, there's no better time than now to visit the McKenna Truck Center in Des Moines or call them at (800) 747-1130 to make an appointment and finally get that Legacy sleeper you've been wanting!
---